Abuse survivors ask to meet Pope's investigators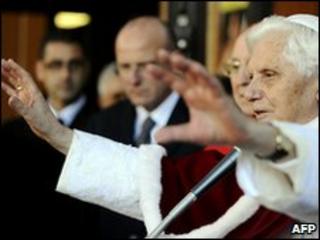 Victims of child abuse in the Catholic Church have asked to meet investigators being sent to Ireland by Pope Benedict.
Members of the Right to Peace and Right of Place groups want to argue their case for better compensation.
Pope Benedict set up a panel to investigate the Irish church's handling of child abuse.
It follows last year's Ryan report on residential institutions and the Murphy Report on the Dublin Archdiocese.
On Tuesday and Wednesday in the Vatican, a separate review of abuse in parishes will be prepared when Cardinal Sean Brady, and Archbishops Diarmuid Martin, Dermot Clifford and Michael Neary meet the four investigators assigned to their dioceses.
The Church in Ireland is struggling to repair relations with a disillusioned public after three official reports in the past five years detailed abuse stretching over several decades and condemned the Church for keeping it secret.