Graeme McDowell Ryder Cup match looks key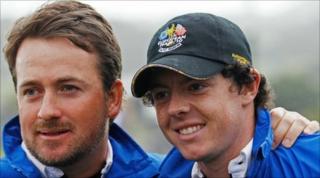 Northern Ireland's Rory McIlroy and Graeme McDowell have been in the thick of the action in the final round singles of the Ryder Cup.
Portrush man McDowell is playing the final match, and it is looking almost certain that he will have to provide the point - or half a point - Europe will need if they are to win the event.
He was leading Hunter Mahan by one shot going onto the 16th hole.
Earlier, Holywood's McIlroy halved his match with Stewart Cink.
McIlroy took the first two holes, but lost the next three, before surviving a nervy final hole to secure the tie.
It is the first time the competition has run into a fourth day after a series of rain delays.
Europe led the US by close of play on Sunday winning five and a half points out of a possible six.
McIlroy and McDowell played their part with a win over Zach Johnson and Hunter Mahan.
Their victory was guaranteed on the par-three 17th when McIlroy sunk a birdie following a great tee-shot from McDowell.
"I regard Rory as one of the best players I've seen in the world," said McDowell, who has now won one, lost one and halved one with in his three matches with the 21-year-old.
"I am going to miss him tomorrow, but I know he will be doing his job and I will be doing mine."
Captain Colin Montgomerie has placed McIlroy second in the singles matches playing against Stewart Cink while Graeme McDowell will take on Hunter Mahan.
Europe need to reach a target of 14 and a half points to seal victory.
Keep track of the final round: Live - Ryder Cup 2010.