John Lewis inquiry delayed again amid Poots remarks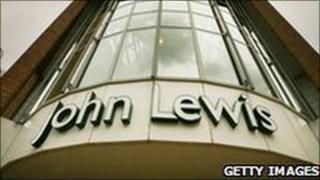 A long-delayed inquiry into a John Lewis development at Sprucefield has been postponed again, it has emerged.
The public inquiry was due to resume on Tuesday, but the Planning Appeals Commission confirmed it has been put off amid concerns over media comments by Environment Minister Edwin Poots.
A High Court judge had suggested Mr Poots' remarks in a BBC Radio Ulster interview may have strengthened any allegation of bias over the controversial plan.
"The implications of this transcript are extremely serious on a number of fronts," Mr Justice Girvan told the High Court.
Newts, bats and badgers
The case has been brought by businesses opposed to the proposed John Lewis development at Sprucefield in Lisburn.
They are seeking a judicial review into why the Department of the Environment did not request more information on the impact the development would have on newts, bats and badgers at the site.
William Orbinson QC, appearing for retailers, including the House of Fraser and other businesses in Belfast, read extracts from Mr Poots' interview on the Nolan Show.
In it Mr Poots said it was "outrageous" for the courts to allow applications for judicial review to be heard whenever it is one commercial interest against another, without actually dealing with issues relating to them.
He also said that this would not be the case in the rest of the UK, before adding that he is getting a report prepared to advise on what steps can be taken to amend legislation, the court heard.
Roy Martin QC, appearing for the department, pointed out that in the same interview the minister made clear he was not saying John Lewis was going to go ahead.
Lord Justice Girvan said claims of bias may surface once a decision is taken on the planning application for the proposed development at Sprucefield, near Lisburn.
"What has transpired in the transcript may strengthen that argument," he said.
Twist
He also said issues around the sub judice rule might be raised by Mr Poots giving the interview after legal proceedings were under way.
The development led to the application for leave to seek a judicial review being adjourned until Tuesday.
A public inquiry into the controversial 500,000 square feet development was also due to resume then, but it has been postponed again.
The legal challenge is the latest twist in the protracted bid to realise an expansion to Sprucefield Park first announced in 2004.
Up to 2,000 jobs were to be created, including around 700 at the first John Lewis store in Ireland.
Planning permission was granted at first, only to be overturned following a legal challenge by other traders.
They object to the building of a large-scale retail project which, in their view, could damage town-centre shopping.