HR company boosts city workforce with 45 new jobs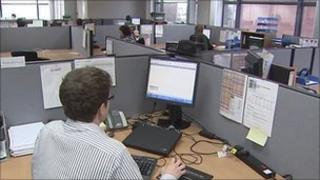 One of the world's leading human resources consultancy companies has announced it is to create 45 new jobs in Belfast.
Mercer Ltd designs and manages pensions for a range of companies - it focuses on reitrement, risk and finance.
It currently employs 55 people at its Clarendon House base at Clarendon Road, Belfast.
The offices are located in the city's rejuvenated docklands district.
Enterprise Minister Arlene Foster announced the move by the company on Monday.
The minister said: "This is a high quality investment by one of the world's leading HR consultancies.
Salaries
"Invest NI support has secured 45 new posts which will generate salaries well above the NI average and enable this specialist facility to broaden its services into key European markets," she said.
The company employs 18,000 employees, based in more than 40 countries.
Head of Mercer's Retirement Service Centre in Belfast, Gregor Law, said: "Our network of retirement service centres around the world continues to provide an efficient actuarial service to a growing client base.
"In seeking a location from which to develop the European marketplace, Belfast stood out for us given our existing experience of this region, the strongly skilled people and the support offered by Invest NI."