What is the C. diff Superbug Inquiry?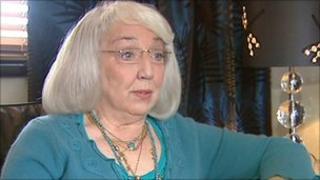 Families of patients who died during Northern Ireland's biggest ever hospital superbug outbreak are due to start giving evidence to a public inquiry.
An independent panel is to review the exact number of patients who died in Northern Trust hospitals, either directly or indirectly as a result of the C. difficile infection, between June 2007 and August 2008.
For one family, the inquiry is the first step in finding out what went wrong.
Sylvia and Ralph Rossi, from Newtonabbey were married for 46 years and had seven grandchildren.
Ralph was diagnosed with myeloma, a cancer that affects cells in the bone marrow, but was recovering well and continuing to enjoy a full and independent life.
His treatment often meant he had to be admitted to hospital to receive medication or sometimes a blood transfusion.
In December 2007, after spending a few days in Antrim Area Hospital for routine treatment, Mr Rossi became seriously ill after contracting the hospital superbug Clostridium difficile.
Mrs Rossi said her husband's health dramatically deteriorated.
"The doctors said he would be in for three to four days and would be home for Christmas.
"After he was moved out of the cancer ward and into a different ward where his bed was beside a toilet, he stopped eating, became very thin and was experiencing a lot of pain.
"He never got home for Christmas - in fact he never came home, C. diff took him and took him very quickly."
The Rossi family are the human face of this public inquiry. Set up by the Health Minister, Michael McGimpsey, in March 2009, it set out to establish just how many people died in the course of the outbreak either directly or indirectly as a result of the infection.
The time frame is between June 2007 and August 2008 as during that time C. diff infection levels exceeded the normal baseline rates within the Northern Health trust.
Media reports at the time suggested that figure was somewhere between 60 and 70 deaths - but many people, including families of those being treated in hospital, believe it is much higher.
The panel is chaired by Dame Deirdre Hine, who led the independent review into swine flu.
To date almost 200 people have contributed to the inquiry's work, including patients, their families, medical experts and health trust staff.
So far almost 100 people have provided witness statements and over 50 people are being invited to provide oral evidence to the Inquiry.
Mondays hearing is significant as it allows families who lost loved ones to tell their side of the story. According to Mrs Rossi, it's time for the truth to come out.
"For visitors and patients it was obvious that something was terribly wrong in the ward," she said.
"While Ralph was there - two bodies were wheeled out. The smell of diarrhoea was dreadful, it stank. One particular night, when Ralph was very ill, a nurse told him it was like working in a cowshed. "
For some of the families the inquiry's remit doesn't go far enough. There's criticism that it is just a fact-finding exercise with no one being held to account.
Mr Rossi's daughter, Giulia Clarke, said it's about someone taking responsibility.
"The public inquiry is only dealing with cleanliness, procedures - things they should be dealing with anyway. Lessons need to be learned and I'm not happy that no-one is being held responsible."
Solicitor Hilary Carmichael is representing 14 of the families who are giving evidence.
"The families are not entirely happy, they believe there should be some apportionment of blame, it's all about sharing experiences and for some that's not enough."
The hearing, which is taking place at the Civic Centre in Antrim, is expected to last three weeks.
Around 50 people are expected to take the stand, including the former chief executive of the Northern Health Trust, Norma Evans and the chief medical officer, Dr Michael McBride.
The inquiry is expected to deliver its final report and a list of recommendations to the health minister before the end of the year.