Londonderry plumbers 'in limbo' after employer loses contract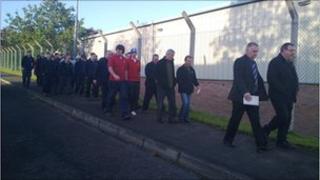 Representatives of 29 workers at a Londonderry plumbing firm have met with a rival company to demand employment on Monday.
On Friday, the workers were told by McGurk and Moore that the company had lost its contract with the North and West Housing Association to Omega Mechanical Services.
The firm said it could no longer afford to employ the workers.
It told the workers to turn up at Omega's offices on Monday for work.
McGurk and Moore argued that the workers had become Omega's responsibility, under Transfer of Undertakings (Protection of Employment) Regulations 2006 (TUPE).
Liam Gallagher from the Trades Council met with Omega's operations manager earlier on Monday.
He said that Omega had accepted very limited responsibility under TUPE, but that it is not accepting responsibility for all of the employees.
''It looks likely that this is not going to be resolved amicably," he said.
"We're trying desperately to get the Labour Relations Agency and both parties together so that we can get some sort of decent resolution to this.
"In the meantime, workers are still in a state of limbo. They can't go to the dole because they have no status, they're neither employed nor unemployed."
Mr Gallagher said that, in addition to advice and mediation, the workers were going to need financial help.
He said that representatives for the workers would try "to set up a hardship fund among the unions to see if we can alleviate some of the immediate hardship faced by these workers and their families".
George Hutton, who worked at McGurk and Moore, said that the matter should have been resolved weeks ago.
"It leaves us with no work today. This is totally ridiculous in 2010, it's an absolute joke," he said.
Paul Doherty also worked at McGurk and Moore and he said the situation was already having an impact on worker's health.
"It's hard to even sleep at night, you're just lying there thinking about it all the time," he said.
"We don't know where we stand now, I mean we haven't even got a wage coming in this week."
The workers are due to meet with Mr Gallagher at 2000 BST on Monday to discuss their options.