Forest Service 'raving' mad at revellers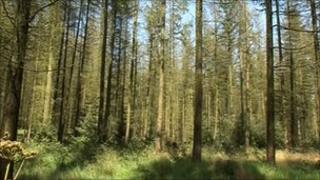 If the Forest Service did not have enough to deal with while combating the outbreak of a rare tree disease, it is now facing another menace - of the human variety.
Officials have admitted that while they battle Sudden Oak Disease by day, another peril is occasionally appearing in woodlands here by night - dance music devotees descending for a "rave" under the stars.
The issue has come to light following questions put to the Department of Agriculture by Carrickfergus-based MLA David Hilditch, concerned by reports of such an event near the town in early September.
The Carrick Times reported that Woodburn reservoir was the destination for "hundreds" of young people, some of whom partied until 0430 in the morning.
Mr Hilditch said the event had been organised with some sophistication, with revellers travelling to the rave in minibuses.
The MLA said that up to 14 family homes had been damaged by those attending as they made their way back towards Carrickfergus after the festivities.
He added that early morning dog walkers in the picturesque setting were confronted by the sight of some still sleeping off their exertions.
He added: "It was a real pest for people living in the area, not to mention the potential damage to the wilderness.
"No-one wants young people not to be able to enjoy themselves but there are enough nightclubs for them to go to without them having to disturb people and the environment."
Responding to Mr Hilditch's query, Department of Agriculture officials said that while they were aware of such parties, they were "infrequent".
It said that it was taking a range of actions, including carrying out engineering work to ensure forest roads not required for operational matters would be unavailable for use.