Developer Paddy McKillen begins Nama challenge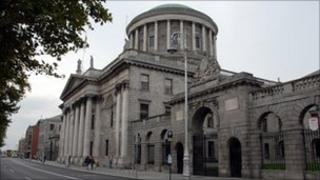 A Dublin court has begun hearing a legal challenge to the Irish government's National Asset Management Agency (Nama).
The "bad bank" was set up in response to the banking and property crisis, and is taking over all major development loans from Dublin-based banks.
Belfast-born developer Paddy McKillen is claiming Nama has no right to take over loans which were made to him.
He is challenging the transfer of 80m euros of loans from Bank of Ireland.
One of Mr McKillen's companies, the Maybourne Group, owns some of London's most prestigious hotels, including Claridges and the Berkeley.
The case is being heard by three judges presided over by High Court President Justice Nicholas Kearns.
Opening the case for Mr McKillen, Senior Counsel Michael Cush said his client was not asking the court to decide if Nama was a good or bad idea.
Mr Cush said Mr McKillen was basing his case on five issues.
He said the procedures adopted by Nama in its interpretation of the act were a denial of Mr McKillen's constitutional right to fair procedures.
Mr Cush said Nama failed to have regard to relevant considerations when exercising its discretion to acquire Mr McKillen's loans.
He said the decision to acquire the loans was taken before the establishment of Nama and was therefore null and void and of no effect.
He said under a correct interpretation of the European Commission's decision approving Nama, at least some of a borrower's loans must be impaired before they can be acquired by Nama.
Mr McKillen's final point is that if he is wrong on these issues, then the legislation itself is so broad that it is unconstitutional.
Mr Cush said Mr McKillen was of the firm belief that the acquisition of his loans by Nama would cause significant adverse effects on him and on his companies' financial wellbeing.
'Real threat'
The state argues that the challenge is a very real threat to the vital work of Nama and is of enormous economic significance.
It says five banks participating in Nama have an exposure of 2bn euros in total to Mr McKillen.
The case is expected to take two weeks.
Nama is taking over all land and developments loans of more than 20m euros made by Bank of Ireland and AIB.
There is a 5m euros threshold for loans made by three smaller institutions, including Anglo Irish.
The aim is to improve banks' balance sheets and ultimately allow them to begin lending more money.
Although Nama is thought of as a way of removing "toxic" loans from the banks, it is also taking over good or "performing" loans - those which are being repaid and earning money.
In a hearing at the High Court in Dublin in July, Mr McKillen's barrister said 80m euros of his loans which Bank of Ireland intends transferring to Nama were performing.
Many of the loans which Mr McKillen is trying to prevent being moved into Nama relate to developments in Northern Ireland.