Israel to deport Nobel laureate Mairead Maguire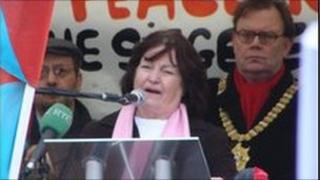 Nobel Peace Prize winner Mairead Corrigan Maguire has lost an appeal against being deported from Israel.
Ms Maguire has been held in an airport detention facility in Tel Aviv since her arrival there last Tuesday.
She was denied entry for taking part in an attempt to bring aid by sea to Gaza in defiance of Israel's blockade.
Lawyers for the Israel government told the court she had been told she would not be allowed back after being deported in July.
Her legal representatives had argued the deportation was illegal.
Mairead Corrigan Maguire co-founded Women for Peace, which later became the Community for Peace People, along with fellow Belfast woman Betty Williams.
The two women were awarded the Nobel Peace Prize in 1976 for their efforts in trying to encourage a peaceful resolution to the Troubles in Northern Ireland.