Recycled waste ending up in Northern Ireland's dumps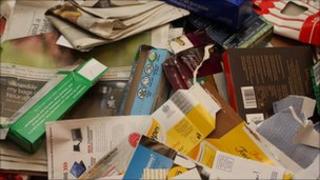 An increasing amount of waste which was supposed to have been recycled is ending up in landfill in Northern Ireland, the BBC has learned.
Manufacturers are having to dump the "recycled waste" because it has been so badly sorted. Some of this waste has contamination levels of up to 40%.
Firms often have to send unusable waste to landfill at their own expense, having already bought it from councils.
The waste still appears in government statistics as having been recycled.
Philip Woolsey of Lurgan-based packaging company Huhtamaki said they had stopped taking waste paper from several councils.
"It got to a stage for us where we couldn't use the paper we were purchasing," he said.
"It seems silly to buy material to turn into a product you can sell then dumping up to 20% of it."