Gerry Evans' family devastated 'Disappeared' dig ended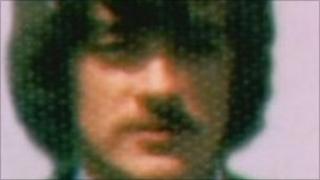 The brother of one of the "Disappeared" has said his family is devastated that a 16-month dig for his remains ended without success.
Crossmaglen man Gerry Evans was last seen in 1979 in Castleblayney.
The search focused on Carrickrobin in County Louth after a map was passed to the Independent Commission for the Location of Victims' Remains (ICLVR).
Mr Evans' family lived a few doors from the home of Charlie Armstrong, whose remains were found in June.
The 57-year-old was believed to have been kidnapped and murdered by the IRA.
Gerry Evans was last seen hitch-hiking in County Monaghan. He was 24 at the time.
Isolated areas
His brother Noel said they were very disappointed after digging was halted last week.
"The information that came through seemed to pinpoint a certain area, maybe the directions were out of sync or maybe people just can't remember the exact site," he said.
"As the commissioners have said, they just can't keep digging round and round unless we can get a definite location for his remains."
Geoff Knupfer from the ICLVR said last week he was certain the site had been searched thoroughly and that if the remains were there, they would have been found.
The ICLVR was established in 1999 to obtain information in strictest confidence which may lead to the location of the remains of "the Disappeared" - those killed and buried in secret by banned paramilitary groups prior to 10 April 1998 as a result of the Troubles.
Sixteen people were murdered by republican paramilitaries and secretly buried in isolated areas of Ireland during the Troubles.
Nine bodies of the people known as the Disappeared have yet to be found.
In 1999 the IRA admitted responsibility for killing and secretly burying nine of the 16, while one was admitted by the INLA.