Owen Paterson in call over 'segregation cost'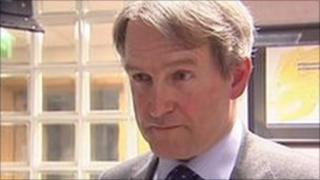 The secretary of state has said the NI Executive must address the cost of segregation if it is serious about saving money and providing better public services.
Owen Paterson was speaking at a Conservative Party fringe meeting on Tuesday.
He said the "British taxpayer should not continue to subsidise segregation".
The meeting was attended by three Stormont ministers including Deputy First Minister Martin McGuinness.
It was the first time the Sinn Fein politician had attended an event at a Conservative conference.
Also at the meeting were Sir Reg Empey and Alex Attwood.
Mr Paterson said he had received a report on Tuesday that a school in Belfast had no pupils and another school had more staff than pupils.
The secretary of state said these areas were in the hands of local ministers and it "was a criminal waste of public money".
He added that there was now a golden opportunity during this debate about public services to change the way areas of life were run in Northern Ireland.
Responding to Mr Paterson's comments, Education Minister Caitriona Ruane said that he was "attempting to divert public attention away from the fact that his government is proposing to slash public spending".
Before the meeting, Mr McGuinness described as "offensive" comments made by the secretary of state about spending cuts.
Mr Paterson had said the coalition could not be expected to abide by financial agreements made under Labour.
Mr McGuinness said his remarks were "absolutely unacceptable".
He said his views were different from when he first took the Northern Ireland role.
"I believe that Owen Paterson has a responsibility, as someone who at the outset said he believed if the government moved too quickly on the whole issue of rebalancing the public and private sector, it would be very damaging," he said.
In recent days, both Mr McGuinness and First Minister Peter Robinson have urged the coalition to honour financial commitments made by the previous Labour government to the Stormont Executive.
Mr Paterson has insisted the government must live within its means and cannot be held to commitments made by Labour.
Mr McGuinness addressed delegates at a business breakfast on Tuesday.
Chancellor George Osborne will announce the details of his Comprehensive Spending Review on 20 October.
It is expected to lead to a cut of up to £2bn in the Northern Ireland budget, up to 25% of its total expenditure.