Funeral for murdered wife and mother takes place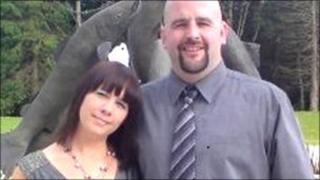 The funeral for Sharon Hull, who was murdered by her estranged husband has taken place in Antrim.
The mother of three was found dead at her Carnbeg Meadows home in Antrim on Saturday morning.
It is understood her husband Philip Hull, 34, took his own life after killing his 33-year-old wife.
The couple had three young children who were not in the house when Mrs Hull died.
Her husband's body was later found in a car park at nearby Tardree Forest.
Father Sean Emerson, from St Comgalls Parish in Antrim has been to visit Mrs Hull's family.
"They are bearing up reasonably well but it is such a tremendous blow to them," he said.
"It's like almost their worst nightmare happening and the reality of it, I presume hasn't really hit home.
"They're struggling with it, they're supporting each other, they're helping each other, they've got friends and neighbours around them and that is helping them," he added.
Fr Emerson said he expected many people in the community would attend Mrs Hull's funeral to show support to her family.
It is understood that the couple, who had been married for 12 years, recently separated. Police said Mr Hull had been under a restraining order.
Despite initial reports, it is understood that Mrs Hull was not stabbed.
Mr Hull worked as a security man, whilst his wife worked for an accountancy firm.
He was a rugby fanatic and they were both well known in rugby circles in the Antrim area.
A family friend said Mrs Hull was "lovely and bubbly, great craic and she was an inspiration."
Mr Hull was "a gentle giant. A really nice guy."