Minister David Ford defends prison service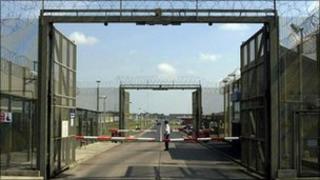 Justice Minister David Ford has denied the Prison Service is a "bit of a shambles" after errors led to two prisoners, one accused of rape, walking free.
He said the errors should be viewed in the context of thousands of cases being dealt with without any issues.
Mr Ford also made it clear he was not in the business of "scapegoating" staff over the errors.
He was speaking after meeting members of the Prison Officers Association.
The members of the association were from Maghaberry jail.
Earlier on Tuesday, the chairman of the Assembly Justice Committee, Lord Morrow, said the Northern Ireland Prison Service was not "fit for purpose".
Lord Morrow was responding after it emerged on Monday that a second prisoner had been released in error by the Prison Service last week.
Justice Minister David Ford revealed details of the case while addressing MLAs about the accidental release of a prisoner accused of rape.
An inquiry is underway.
At large
Connolly James Cummins was appearing in court at Downpatrick on Friday.
He was released even though his file was marked "hold" as he still faced charges including theft and aggravated vehicle-taking.
Mr Ford told the Assembly on Monday that a judge at Downpatrick Crown Court had dismissed charges against Mr Cummins of breaching a custody probation order.
"It appears that a prison custody officer failed to take these charges into account and released Mr Cummins in error," he said.
Mr Ford said he remains at large even though the mistake was discovered within minutes.
Police are still looking for Devidas Paliutis, 27, who appeared at Newry Magistrates Court via a video link from Maghaberry Prison on Wednesday.
The Prison Service was told by the court that the holding charges had been withdrawn but did not realise he had been returned for trial to the Crown Court on other charges.
Mr Ford said this latest error would be included in the scope of the inquiry into how Mr Paliutis came to be released.
'Incompetence and unprofessionalism'
Lord Morrow said although the men were facing different charges they had been released for the same reason.
"I think they're at large because of one issue and its simply this, incompetence and unprofessionalism within the system that allowed two prisoners to walk free," he said.
"It must come as a 'pleasant surprise' to both of these prisoners when they were told, 'look you're free and away you go'.
"This morning we have two prisoners, one on a very serious charge and another on a serious charge and today they're free, walking free, they're unlawfully at large and that shouldn't be," he added.
The justice chair said Mr Ford had to "reassure the house and the public that he is in control of the situation and that the system that is in place at the moment is indeed capable of dealing with all events and at the moment we're not convinced that that is the case."
Lord Morrow refused to be drawn on whether Mr Ford should resign.
"If David Ford, when he carries out all his inquiry feels that 'yes, I would need to resign as a result of this', let him get on because I'm not going to shed any tears whether David Ford goes or stays."
The justice minister said the release of the two men were "isolated incidents" out of about 6,000 cases over the past five or six years.
He said the inquiry would be completed by the end of October, and its findings would be reviewed by the chief inspector of criminal justice in Northern Ireland, Dr Michael Maguire.
"I have today been assured by the director general of the Prison Service that measures are in place to strengthen procedures at all prisons," he said.
"These include a strengthening of staff capability in this area and improved communications from the video link facilities to the office that authorises discharge."