Manager says city centre works project on schedule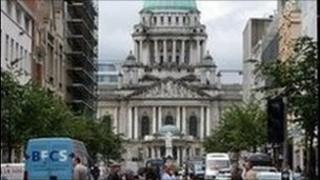 The manager of Belfast city centre has denied that a £30m works scheme in Belfast is running behind schedule.
The 'Streets Ahead' project was launched by the then Social Development Minister Margaret Ritchie in April 2009.
It was set up to improve the pavements and lighting in 13 of the city's busiest shopping streets.
Alliance councillor Tom Eakin said the works had turned Royal Avenue into a "maze".
Andrew Irvine said the project is "absolutely on schedule".
"We're going now towards the Christmas embargo which is the 19 November when no road works take place in the city centre except emergency work, so many of the barriers will be removed by that date," he said.
"At that point most of the ground works, the work that requires digging will be finished and complete.
"Any areas that are left will be black tarred over and the city opened up for Christmas.
"When we come back after Christmas, on 3 January, they'll be some minor paving to do and the installation of street furniture which is your benches, bins, bus stops and things like that," he added.
He denied that the scheme was running six months behind schedule.
"I'm certainly not aware in any conversations that have been had with Belfast City Centre Management, we as an organisation have always understood that this would finish in March 2011.
"For the last two years since I took the post as city centre manager, I have not understood any differently.
A Department of Social Development (DSD) spokesperson said: "The revised completion date of March 2011 for the 'Belfast: Streets Ahead' programme has been in the public domain since last October."
"The slippage in the timetable is due to a number of factors including statutory planning, the impact of the Christmas embargo on the construction timetable, obtaining way leave permissions and the upgrade of electricity cables."
The DSD said that when it was launched in April 2009 it had been anticipated that the project would be completed by October 2010.
Mr Irvine said the project had been "difficult to manage".
"The public and I'm a member of the public, when we're on the streets are actually hard to manage.
"I see people everyday jumping over these barriers and acting very irresponsibly, so in terms of trying to keep the city going , the shops open, the buses going, that requires an awful lot of management."
The DSD said the barriers were in place to protect the health and safety interests of pedestrians and staff working on the project.
It said the barriers will be required in much smaller work areas on the east side of the street from 3 January to the 31 March, but not to anywhere near the same extent as at present.