Paula Bradshaw quits the Ulster Unionist party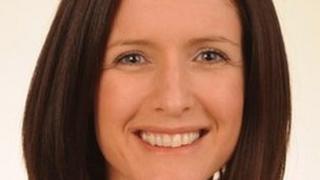 A second high profile Ulster Unionist has left the party.
Paula Bradshaw, who stood as a joint UUP-Conservative candidate in the Westminster election, confirmed she has cancelled her party membership.
Speculation had been growing over her future after she failed to be selected as a candidate for next year's assembly elections.
Her departure comes after another Westminster candidate, Trevor Ringland, resigned from the party on Monday.
Ms Bradshaw said she made the decision to leave over the weekend and emailed the party to cancel her membership.
The UUP leader Tom Elliott said he was "deeply disappointed" and described Ms Bradshaw as "a valuable member of the team".
"The nature of politics is such that we must abide by the democratically expressed will of our voters - in whichever context," he said.