Londonderry 'plumbing' firms agree to discuss workers plight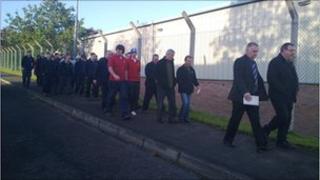 Workers who were left in legal limbo after their employer lost a contract to a rival firm have been told the two companies have agreed to talk to each other to try to resolve the situation.
Representatives from Unison and the Derry Trades Council met with the McGurk and Moore workers on Monday to discuss their possible future employment with Omega Mechanical Services, the firm which won the new contract.
McGurk and Moore had argued that the workers were now Omega's responsibility, under Transfer of Undertakings (Protection of Employment) Regulations 2006 (TUPE).
The representatives said that the two companies would decide by Thursday if they would agree to split wages between them and pay 15 workers each.
The workers were told that if the companies did not agree to pay their wages a hardship fund would be established.
Omega has stated that the company has already filled all the posts it is required to under the TUPE transfer requirements.
Another meeting between the workers and Unison and Derry Trades Council is expected on Thursday.