Londonderry business hit by second bomb in two months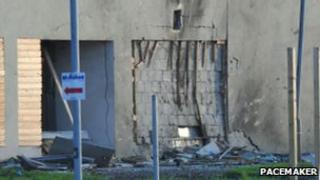 A business in Londonderry has had its head office bombed for the second time in just over two months.
North West Money Exchange recently moved its head office from the city's Strand Road after its premises there were damaged by a dissident car bomb meant for the nearby PSNI station.
The office was relocated to the Davinci's complex on the Culmore Road, which was struck by another car bomb late on Monday.
The Real IRA has admitted responsibility for the device which was left close to the Ulster Bank on the Culmore Road.
The police said the bomb was more than 200lb, bigger than the car bomb used in the attack in August.
Managing Director David Harris said he had so far been unable to check if the office had been damaged by the attack.
"Obviously it's a nightmare. We've been here about seven or eight weeks since the last one and now we're in total disarray again," he said.
Mr Harris said the damage caused by the attacks would not deter the company from continuing to invest in the city.
He added:"You can't recoup your losses, you have to get on with the business and try to build things back up again.
"We've been doing this now for 30 years. We came through the height of the troubles in the 70s and 80s.
"Now this is back to somewhere we don't want to be. Probably 95 - 99% of the people in the city don't want to go back to those dark ages again."
He said it was very hard to understand what the dissidents were trying to accomplish.
"The only people suffering are the people of Derry. The traffic here today is unbelievable, they should think about the number of businesses that have been closed and the people put out of their homes."
"This is another stumbling block. Thank God there has been no loss of life. Now we have to try and get our business up and running again as soon as possible," he said.