Alleged rape victim 'dragged down road'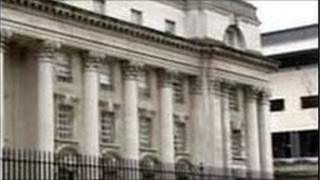 A schoolgirl was dragged along a road and sexually assaulted by two youths after leaving a County Down nightclub, the High Court has been told.
Two boys aged 17 and 16 face a number of charges, including two counts of sexual assault, and attempted rape.
They deny the claims against them and maintain any encounter with the girl in Warrenpoint on 19 July was consensual.
The judge granted bail for them, but imposed restrictions on their movements while the case proceeds.
A Crown lawyer said the 17-year-old alleged victim - who is not from Northern Ireland - had been staying with a school friend when they decided to go for a night out in Warrenpoint.
She told police about having some drinks, being in the nightclub and then walking along a street with two males, the court heard.
She said she remembers them making sexual suggestions to her which she rejected.
"Her next memory was waking up in her friend's house with her pants and hair extensions missing," the lawyer said.
According to the prosecution three other females claimed to have seen the alleged victim, apparently drunk, being dragged and trailed up a road by two youths.
They stated that she was lifted onto a wall, with her head against a pillar and eyes closed.
The boys claimed they knew her and were going to get a taxi for her, it was claimed.
Later, the witnesses said they again sighted the alleged victim with the suspects in an alleyway.
She was sitting on the ground between the pair and seemed to be crying, according to their account.