'Missing' spire snail back in lagoon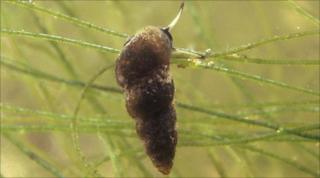 A rare snail - feared lost from one of the few places in Ireland it has ever been seen - has been found to be back in large numbers.
The resurgence of hydrobia acuta, also known as the spire or mud snail, follows a pioneering sea defence project at Anne's Point, near Newtownards.
The National Trust wildlife refuge on the shores of Strangford Lough, a mile to the south of the entrance of Mount Stewart House, holds a mixture of fresh and salt water.
In recent years, the water had become too fresh, and the decision was taken to allow more salt water to flow through to restore the balance.
In the late 1990s the spire snail, which is only 2-5mm long, was found by snail experts Roy Anderson and Julia Nunn in the brackish lagoon.
There are only two other known locations for it in the entire island of Ireland.
Less salty
However, as the lagoon became a less salty environment, the snail became harder to find and from 2007 to 2009 there was concern it had been lost from Anne's Point.
After hunting hard for the missing snail, Roy Anderson and Julia Nunn discovered it again in large numbers of mature and hopefully breeding groups.
The successful project, by the Rivers Agency and the National Trust, involved lowering two short sections of the sea defence to allow spring high tide water to flow through the land between the current defence and the Portaferry Road.
Philip Mehaffey of the Rivers Agency said: "Rivers Agency is delighted that this joint project has resulted in the return of the spire snail.
"Originally identified as a means of dealing with the redundant sea defence, the joint project has proved beneficial for both groups.
"As well as a reduction in the cost of sea defence maintenance, there has been a gain in biodiversity, culminating in the return of this rare snail."
The lagoon at Anne's Point is also a haven for other wildlife, in particular wintering geese and ducks.