Londonderry man to spend a year sailing around the world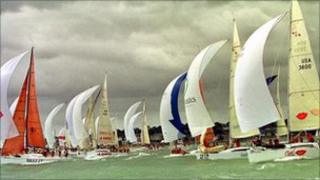 Twelve volunteers from Londonderry have been chosen as crew members for the longest ocean race in the world.
The 12 were chosen out of more than 100 people who turned up for presentations about the 2011-12 Clipper round-the-world yacht race.
Derry is an official host port for leg eight of the competition.
The city will welcome the fleet in July 2012, after the final trans-atlantic stage of the 40,000 mile race.
There will also be an official Derry yacht in the race, which will take in 15 ports on six continents.
John Harkin, from the city, has signed up for the full year-long round-the-world trip.
He said that one leg of the race would not have been enough for him.
"To sail around the world has always been a romantic dream of mine.
I've come to a time in my life where I feel I can do it. I've just retired, my family are grown up," he said.
While John is an experienced yachtsman, he came to the sport quite late in life.
"When I was younger, I was no good at soccer, no good at athletics and suddenly in my mid-40s I decided to take up a sport, so I chose sailing. And I discovered it was a sport that I was reasonably good at. So, I've been sailing for the last 15 - 18 years."
John has sailed around Ireland a few time in his own boat. Last year he sailed it from Ireland to Portugal.
He said that on this type of coastal journey if you hit bad weather you know you can make it safely to land within a few hours. The Clipper race however, will be a different matter.
"On a round-the-world race you're not going to be somewhere safe for four weeks. You're way outside your comfort zone," he said.
John is not going to be content with merely fulfilling his life's ambition to sail the world's oceans. He intends to make Derry's entry a winner.
"It would be my delight to bring the Derry boat in as one of the top three on the podium," he said.
John is keen to stress the economic benefits the race can bring to the city and the north-west as a whole.
"There was a race that came to Galway last year, the Volvo Ocean Race, and it generated 55m euro (£48m) for the west of Ireland," he said.
"There were 46,000 visitors from other parts of Ireland.
"So the potential could be mind-boggling if it is managed right."
The Clipper Race, which is the longest ocean race in the world, was set up by Sir Robin Knox-Johnston, the first man to sail solo, non-stop around the world.
It was designed to give ordinary people with no sailing experience a taste of adventure.