Final report of review of pensions for injured police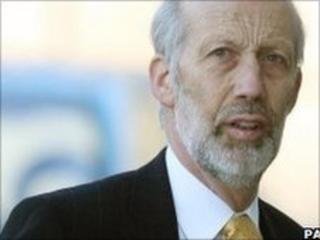 Northern Ireland Justice Minister David Ford has published the final report on a review of how pensions are paid to injured police officers.
The review was launched in May after many former RUC officers injured during the Troubles claimed their pensions were being withdrawn unfairly.
Several recommendations are made, including a minimum of five years before a pension is reviewed.
Mr Ford said the report showed "devolution is working".
The review team was jointly chaired by the Department of Justice and the Northern Ireland Policing Board.
Its recommendations include:
A minimum five-year period before review in all cases
Reviews to be set aside for those who are suffering from the most severe psychological conditions
Improving time taken for an appeal
Successful appeals against review decisions to be backdated to the date the award was reduced
A pool of doctors will be available to act as Selected Medical Practitioners
Individuals will have the option to have their appeal carried out by a different SMP from initial assessment
The review said further work would be carried out on the possibility of a two person appeal panel, chaired by an occupational health specialist.
Mr Ford said: "The recommendations in the report represent a measured package and are aimed at all stages of the process from initial assessment through to review and appeal stage."
'Fair and just recommendation'
He said the issue of backdating after a successful appeal had been a particularly emotive issue.
"The review panel sought evidence from other police forces in the UK and appeal bodies in Northern Ireland and have recommended that successful appeals should have the decision backdated to the date the award was reduced.
"I feel that this is a fair and just recommendation."
Terry Spence from the Police Federation said he "broadly welcomed" the recommendations.
"It is important that there is a clear acknowledgement from our submission to the Department of Justice that officers now will be subjected to a review over a period of five years, not two years and in some cases the provision has been made to set aside any review at all, in cases where officers are suffering from severe psychological conditions, so these are significant steps in the right direction," he said.
"We also have a speeding up of the entire process of appeals if the officer is not content with the award that he or she has been awarded.
"Under those circumstances the appeals process will be significantly speeded up."
Mr Spence said one area of "concern" remained.
'Totally unsatisfactory'
"The Department of Justice is saying that where officers who are serving within the PSNI and are still within their probation period - that is the first two years - if they're injured on duty through no fault of their own, those officers will be subjected to potential dismissal, if they're unable to complete the full range of police duties as a result of that injury.
"That is totally unsatisfactory.
"The Department of Justice is saying it's not within their remit.
"We will be writing to the chief constable about this specific issue," he added.