Attwood probe into NI Housing Executive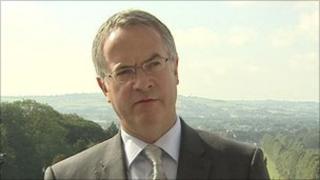 Social Development Minister Alex Attwood has announced details of a major investigation into the Northern Ireland Housing Executive (NIHE).
The minister sent a team into NIHE on Monday to look at procedures on issues including audit management and fraud.
The move is connected to two BBC investigations, one of which concerns a serious dispute between NIHE and one of its biggest contractors, Red Sky.
A fundamental review will also be carried out.
The dispute centres mainly, but not exclusively, in west Belfast and stems from the refusal of NIHE staff to sign-off on poor or incomplete work carried out by Red Sky.
Despite this, there is evidence that on occasions senior managers at NIHE paid the contractor anyway.
Red Sky emphatically denies carrying out any substandard work or that it has been involved in any financial irregularities.
Red Sky and NIHE
Red Sky is an east Belfast-based firm which has contracts worth millions of pounds, to carry out maintenance work on most Housing Executive properties in the city.
In 2007, shortly after Red Sky took up the NIHE contract for west Belfast, Housing Executive staff began to complain about work being carried out to a poor standard, not being done at all and in some cases being billed for and paid by the Housing Executive twice.
The BBC has seen documents, and in some cases photographs, which catalogue complaints from tenants, residents groups and NIHE's own inspectors.
'My home was wrecked'
Sinn Fein councillor Monica Digney was one of those who made a complaint. Ms Digney's son has special needs and Red Sky was sent out by NIHE to remove a partition wall between her bathroom and toilet.
"My home was wrecked, I had to decorate every room in the house," she said.
Ms Digney asked NIHE chief executive Paddy McIntyre to look at the work.
He visited the house, along with colleague Colm McCaughley, and agreed it was not up to standard. NIHE later compensated her but said it did not pay Red Sky.
"I got £1,000 now and I can honestly say that it didn't look at what needed done," she said.
Mr McCaughley, who visited the house with Mr McIntyre, is one of two senior members of NIHE staff currently not at their desks due to another on-going investigation.
'Turned a blind eye'
The litany of complaints angered senior managers at Red Sky who accused NIHE staff of acting unfairly and unreasonably.
In late 2007, the Housing Executive went so far as to inform Red Sky that it was going to terminate the west Belfast contract.
Red Sky were apparently furious and in a letter seen by the BBC one of their managers wrote to NIHE stating that the termination notice had been "extremely damaging to its reputation and credibility". He added that the company would be seeking compensation and damages as a result.
In the same letter he referred to "a process of harassment and intimidatory requests" from west Belfast staff saying that this "appeared to be discriminatory on grounds of the perceived political background of Red Sky as a company".
This caused uproar among NIHE staff who refused to attend meetings with Red Sky unless the accusation was withdrawn. Staff also said they felt unsupported by their management.
NIHE later relented and instead of cancelling the contract a "standstill agreement" - effectively a pause in payments - was put in place, to allow Red Sky time to sort out the problems.
Six months later the contract was reinstated and the same day the accusation was withdrawn.
Interim investigation
The BBC understands that a professional services firm was commissioned by NIHE to carry out an investigation. The BBC has seen the interim assessment on the review which suggests there are "financial anomalies" in areas other than west Belfast where Red Sky has NIHE contracts, particularly in the east of the city.
However, it said it found no evidence of widespread malpractice.
The report was broadly supportive of the west Belfast office. It found that compared to other parts of the city the west Belfast office had one of the lowest value of over-payments and anomalies and the highest rate of failed inspections of Red Sky's work.
It stated "it would appear that the staff in west Belfast were trying and largely succeeding in ensuring that Red Sky complied with the level of workmanship that was required".
In response, Red Sky has told the BBC it has had maintenance contracts with the Housing Executive for over 15 years, that it implements rigorous quality control standards and is proud of its level of service.
The company has emphatically denied any suggestions of sub-standard work or financial irregularities. The company also said that it has never made any spurious allegations of religious or political discrimination.
It said that any threatened termination was without foundation and that it is satisfied that any review will find no impropriety or anomalies with its financial records.
In a short statement NIHE told the BBC that it could not comment on the issues raised with them while an independent review was ongoing. Nevertheless a fuller report is due in about six weeks.