Robinson outlines recovery plan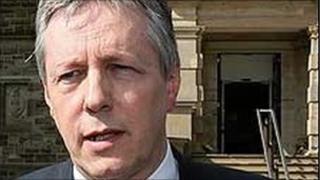 The First Minister has outlined his vision for economic recovery as he addressed Institute of Bankers in Belfast on Wednesday night.
Peter Robinson warned that it would be economically unwise for the Conservatives to reverse a Labour promise of £18bn investment in NI.
Mr Robinson warned the road to recovery for NI could be more damaging than the recession.
He said finance minister Sammy Wilson would remain in post during the budget.
"His tough talk has not played well with some of the other political representatives but part of that is a failure on their part to understand the operation of the Barnett formula," he said.
The first minister said it is not clear how Northern Ireland can grow the private sector if billions are removed from its budget over the next four years.
"The worrying question for us is whether the road to recovery could be more damaging to our economy than the recession was," he said.
"We must do all we can to maximise our settlement it's equally important that we make the best use of the resources that are available to us.
"Given our dependence on public expenditure, its outcome will be vital to what we hope to do as an Executive in helping re-balance our economy, over 90% of the resources available to the Executive come from a UK spending review process."
Mr Robinson also suggested that Northern Ireland must end its over-reliance on the public sector but insisted it was a long-term process.
"We live in an interdependent world but tonight I want to concentrate on the decisions that are to be taken by the UK Government, the Northern Ireland Executive and the banking sector here."
Mr Robinson also urged all parties to work together to ensure that the Executive could deliver
The chancellor George Osborne is expected to introduce severe cuts to public spending on 20 October.