Owen Paterson meets victims' families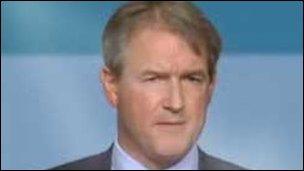 The families of 11 people shot dead in 1971 have said the secretary of state would come back to them in January about their demand for an inquiry.
They were shot dead by the Parachute Regiment in west Belfast.
The families, from the Ballymurphy area, are calling for an independent international inquiry into the deaths.
A Catholic priest and a mother-of-eight were among those killed over a three-day period in the city.
The troops claimed they opened fire after being shot at by republicans.
The families met Owen Paterson on Thursday.
Speaking for the group, John Teggart said Mr Paterson told them there was no mechanism at present to deal with their request.
Mr Teggart said the meeting was heated and emotional at times but the families looked forward to sharing what the secretary of state had to say in January.
Mr Teggart said: "We are disappointed."
"But we are a strong campaign group. We will go forward and have a further meeting planned for the new year."
Mr Paterson said there was no consensus on how to deal with the past in Northern Ireland.
"That does not mean that we will stop looking for a way to build one," he said.
"Over the coming months, along with (NIO minister) Hugo Swire, I will be meeting with a range of individuals, groups and political parties to see if we can find a way forward that is broadly acceptable across Northern Ireland," he said.
Sinn Fein President Gerry Adams and SDLP MLA Alex Attwood accompanied the families.
Mr Attwood said: "I welcome the meeting with the secretary of state where the families outlined their horror and grief resulting from the terrible events of August 1971.
"Their proposal for an apology, an acknowledgement and an independent international investigation is compelling."