What will cuts mean to schools?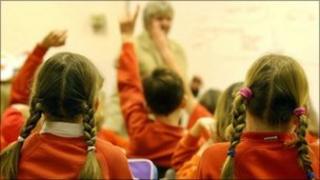 In the latest of our specialists' analysis of the potential cuts coming, we turn to education in our schools. With an annual budget of £1.9bn, how much of it is likely to be at risk? Our Education correspondent Maggie Taggart has been looking at where the axe may fall in the education sector.
Schools have no idea of the extent and target of the cuts ahead.
The principals could be handed budgets reduced by 5% for each of the next five years.
Since the vast bulk of their spending is on staff, that could mean fewer teachers, classroom assistants and canteen workers.
DUP education spokesman, Mervyn Storey said it was a worrying time for staff.
"We have seen figures from the department that indicate £280m is being looked for to set aside against possible redundancies," he said.
"That has created untold concern within the system."
The other option is to skim money from centralised services, even those which they are currently obliged to provide.
Michael Newman is president of the National Association of Head Teachers.
"You could be looking at things like school transport which is always a contentious issue, but an awful lot of money gets paid out every year on taking children to school," he said.
"The educational welfare service, music service, all the peripheral services could be under threat.
"Some of them, schools might be able to do without, others it would be more difficult.
"I suppose it comes down to the definition of what you consider to be front line services."
Savings could have been made by abolishing the education boards but that hasn't happened and smaller, interim boards have been appointed.
The uncertainty leaves the body representing education boards in a quandary.
Rev Selwoode Graham is head of the Association of Northern Ireland Education and Library Boards which brings together a very wide spectrum of opinion from all sectors of education.
"I feel it's a very serious disadvantage because at the present time there's such tremendous changes taking place and such tremendous dangers that are in place that there needs to be all the help there can be to ensure the one thing we all want, the best possible quality education for as many of the young people in NI as is possible."
The fabric of school buildings could suffer from cut-backs.
The maintenance backlog stands at £200m and there is serious doubt over the chances of building new schools.
Rev Graham said many staff are trying to carry out their work despite the uncertainty.
"There has been a serious reduction in morale as people worry and are anxious about the future and that's something I would love to be able to reassure them and hope perhaps they might be more encouraged," he said.
"There's a danger if you can't do that."
Leaders in education know the situation is serious and they will have to shoulder some of the burden.
Mr Storey said it was important to achieve a balance.
"I think we all appreciate that the current financial situation that we find ourselves in, in relation to the debt that the country has and how we get ourselves back onto a stronger financial footing, has to be dealt with.
"But it has to be dealt with in a way that still secures those services that we depend upon on a day-to-day basis and I think that's the challenge for politicians in the Assembly.
"They have to prioritise. Education is a priority."
At Dromore High School, 70% of the 800 pupils travel by bus and many of them live far enough away to get free passes. That could be at risk.
Home school transport costs the government £75m a year, it must be tempting to consider some sort of reduction in entitlement.
That could mean parents paying more of the bill for getting their children to and from school.
The trick will be to pull that off without damaging children's futures.
Education Minister Caitriona Ruane stresses the fundamental right of children and young people to education.
"As minister it is my responsibility to put the case for realistic funding to deliver quality education in quality buildings," she said.
"I anticipate full expenditure of our £1.9bn resource and £170m capital budgets during the current year. I am not in a position to provide an assessment for the future.
"That will be possible only when the Executive agree a draft budget in line with the Programme for Government. At that stage, I will be able to begin work to assess the outcome and the implications for education services over the next four years."