IFA honours '58 world cup team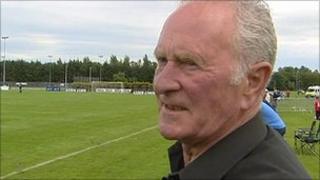 Five of the remaining seven survivors of Northern Ireland's 1958 World Cup side will be guests of honour when Italy visit Windsor Park on Friday.
The 1958 team reached the World Cup finals by defeating Italy 2-1 in front of a 53,00 strong crowd in Belfast.
The IFA has invited the surviving team members to the Euro 2012 qualifier on Friday.
Squad members of the 1958 team, Harry Gregg, Norman Uprichard, Peter McParland, Jimmy McIlroy and Billy Bingham, will be guests of honour at the match.
IFA president Raymond Kennedy paid tribute to the players.
"We felt this was an appropriate gesture to honour the players who brought so much glory to Northern Ireland," he said."
1958 was the only World Cup at which England, Scotland, Wales and Northern Ireland all reached the finals.