Coalition government asked to 'rethink cuts'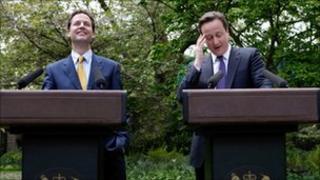 The coalition government is to be asked to reconsider planned spending cuts in Northern Ireland, Scotland and Wales.
The three devolved administrations are expected to issue a joint statement shortly calling on the government to "rethink" its spending plans.
It is understood they will say the cuts should be scaled back and phased in over a longer time period.
Chancellor George Osborne will announce details of the Comprehensive Spending Review on 20 October.
It is expected to lead to a cut of up to £2bn in the Northern Ireland budget.
The first minister has warned that it would be economically unwise for the Conservatives to reverse a Labour promise of £18bn investment in NI.
Peter Robinson made the comments as he outlined his vision for economic recovery to the Institute of Bankers in Belfast on Wednesday night.
Mr Robinson warned the road to recovery for NI could be more damaging than the recession.