'It's boring'... why boxing doesn't quite pack a punch for Barnes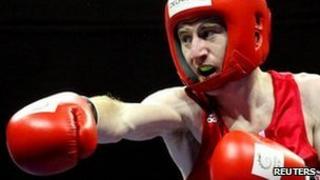 Northern Ireland's light-flyweight favourite Paddy Barnes was far from impressed with the start of his Commonwealth Games campaign claiming that he found "boxing boring".
Olympic bronze medallist and European champion Barnes defeated Scotland's Iain Butcher 4-2 in a tense opening light-flyweight contest.
Speaking on Thursday, 23-year-old Barnes from Belfast said: "It was a tough fight and he made it hard for me but it was all about getting the fight out of my system.
"I need to improve if I'm going to take gold but that's what I'm aiming for."
Barnes has few boxing heroes and he seldom takes an interest in big fights, but admits he tries to model his style on modern boxing icons like Manny Pacquiao and Marco Antonio Barrera.
He added: "I don't really watch boxing. I find it boring - it's all holding and grappling.
"If Pacquiao was fighting tonight maybe I'd switch on the television but that's about all.
"I only started boxing myself one day because I was bored, and here I am.
"I'm fighting the Australian next and I don't know a thing about him. I'm not really bothered. I just put pressure on myself to perform."