Donagh abuse review terms published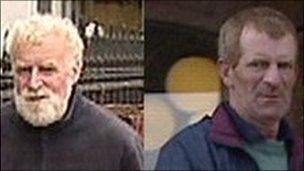 The terms of reference for the independent review of the Donagh child sex abuse case have been published.
Controversy surrounded the release of two brothers back to the village. They have since admitted themselves to hospital for treatment.
Health Minister, Michael McGimpsey, asked the Regulation and Quality Improvement Authority (RQIA) to carry out the review.
It will make recommendations for health and social care groups.
The health minister said the review was "case specific" and would examine the Western Health and Social Care Trust's duties and responsibilities in relation to the McDermott case.
"I want to assure all the survivors of abuse in Donagh that this review will be done as quickly as possible and that any recommendations emerging will be actioned.
"Once again, I want to express my deep sympathies to all the survivors of sexual abuse and to the community in Donagh, Mr McGimpsey said.
"I know this has been a particularly difficult and distressing time for them and it is essential that everyone who has been affected has the space and support they need to come to terms with what has happened.
The review will also examine the Western Trust's statutory duties, and responsibilities in regard to the supervision, care and treatment of James Francis and Owen Roe McDermott from their arrested and in relation to sexual abuse claims.
On Thursday the Justice Minister David Ford has provided the Justice Committee with the terms of reference for the review into issues in the justice system arising from the McDermott case in Donagh.
The review will be carried out by Criminal Justice Inspection Northern Ireland (CJI).
Mr Ford agreed the final terms of reference with the Chief Inspector of Criminal Justice, Dr Michael Maguire, earlier this week.
The minister said the final report will be published as soon as is practicable.
The Terms of Reference include the inspection of the handling of sexual offence cases by the justice system in Northern Ireland 2010.