Clegg and NI leaders in cuts talk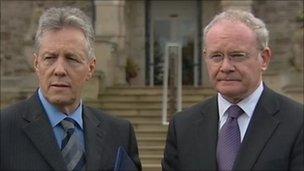 Deputy Prime Minister Nick Clegg has arrived in Northern Ireland on Thursday nights for talks with Peter Robinson and Martin McGuinness.
Mr Clegg is in Stormont to tell the duo that the proposed spending cuts are necessary.
He said that politicians on both sides had worked together to pass on a better political legacy now it was time to take a similar step with the economy.
"Someone at some point has to wipe the slate clean," Mr Clegg said.
"Otherwise we are just passing on our debt to our children and grandchildren, asking them to pay for something which isn't there's."
On Thursday the devolved administrations in NI, Scotland and Wales issued a joint statement calling for the cuts to be scaled back.
"There's a collective view that the cuts are going too far, too fast," NI First Minister Mr Robinson said.
"You cannot ensure that there's going to be a recovery if you take billions of pounds particularly out of capital spend," Mr Robinson said.
"It is upon the capital spend that the infrastructure is developed, it gives a stimulus to the economy as a whole."
The statement, signed by Peter Robinson and Martin McGuinness, along with their Scottish and Welsh counterparts, Alex Salmond and Carwyn Jones, goes on to say that significant cuts should only be implemented when the recovery was well established.
They urged the government to share its thinking before the spending review on 20 October so that their budgets could be organised as effectively as possible.