Iconic Dublin statues to relocate to temporary home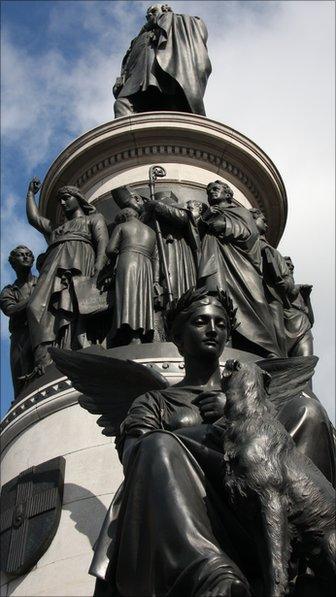 Visitors to O'Connell Street, Dublin's main thoroughfare, in the coming year may notice in that some of its famous residents have moved.
Four iconic statues are being uplifted to a temporary new home to allow for the construction of a new underground railway system in the Irish capital.
Irish Planning body An Bord Pleanala is expected to give its decision on the project this month.
When completed, Metro North will run from St Stephens Green all the way under the airport out to Swords in north County Dublin.
So who are the famous four?
The street is named after Daniel O'Connell. He is perhaps the most well known.
Donncha O'Dulaing is the heritage officer for the Railway Procurement Agency.
He is a self-confessed statue anorak.
"Daniel is cast in bronze and is known as the 'Liberator".
"He was a Catholic landowner from the west of Ireland who eventually became elected as an MP to Westminster, following Catholic emancipation, something he fought very hard and long for."
Further down the street sits William Smith O'Brien, who is cast in marble.
"He was a Conservative MP but he became very much enamoured with the whole movement for Catholic emancipation and turned more onto the nationalist side," said Mr O'Dulaing.
"Behind William is Sir John Gray.
"He was a physician but also very strong on the political nationalist side in Ireland in the 19th century."
Those three statues have been around for many years.
The fourth statue is a much newer fixture.
James Larkin played a leading role in trade unionism, in both Belfast and Dublin.
"Jim Larkin was put up in the mid 1970s . It shows him in the very iconic stance of arms outstretched imploring the people to rise from their knees for the cause of labour."
The statues' new home is less than a mile away at the National Museum of Ireland at Collins Barracks.
Seamus Lynam is head of services at the museum. He said they are "very excited" about their new arrivals.
They will be housed in a square within the barracks.
"We have four corners as you would with all squares, so we will put one in each corner," he said.
"Interestingly they won't have their main plinths with them so people will have a much much better view of them than they might have had going through O'Connell Street at eye level."
Their stay at Collins Barracks is only temporary. It is hoped they will be back home on O'Connell Street in four years.