Storey says 'grooming' warning over biscuit 'too PC'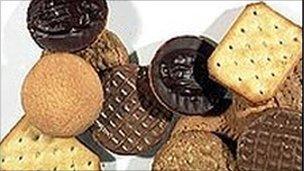 The chair of the Stormont Education committee Mervyn Storey has described a case where a school catering supervisor was told she could be seen to be 'grooming' a child after giving him a biscuit as "political correctness gone too far".
It happened at a County Fermanagh primary school in 2008.
He said children must be protected but common sense must also be used.
The incident was reported to the Ombudsman.
Mr Storey said rules were there to protect children and staff.
"The difference is that in these cases common sense is not common - we have a society which is very politically correct," he said.
"I think it's a sad situation that schools are "so boxed in because of legislation."
It's understood a complaint was made to the Ombudsman Tom Frawley after the incident.
It's also reported that he recommended that the Western Education and Library Board (WELB) should make an apology to the woman and make a consolatory payment.
A spokesperson for the Western Education and Library Board said: "The board has noted the findings of the Ombudsman's report issued in September 2010 and is presently actioning the recommendations."