Colin Duffy refused bail over soldier murders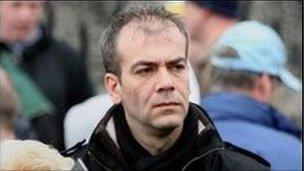 A prominent Lurgan republican accused of the Real IRA murder of two soldiers has been refused high court bail for the second time.
Colin Duffy, 42, has been in custody since March of last year when Sappers Patrick Azimkar and Mark Quinsey were shot dead outside Massereene barracks.
Lord Justice Girvan accepted that Duffy did not pose a flight risk.
However, he refused bail on the basis of a risk to the public and interference with witnesses.
Duffy is also charged with five counts of attempted murder and one count of possession of a firearm.
Sappers Azimkar and Quinsey were murdered as they took delivery of pizza oustide the barracks in Antrim on 7 March.
A previous court hearing was told that two masked gunmen fired more than 60 rounds at the victims before escaping in a waiting car.