'Out of the attic' - Paul Henry painting up for auction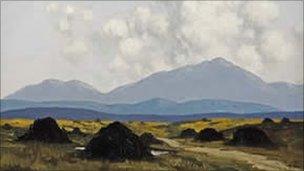 It was an "out of the attic" moment when the Antiques Roadshow came upon a painting by Northern Ireland artist Paul Henry.
"The Bog Road" had been in the owner's family since the 1930s. They bought the painting directly from the artist.
But they were in for a surprise when they brought it to the BBC roadshow in Bath earlier this year.
They found out that the painting they loved was worth a small fortune.
Now the Bog Road is to go under the hammer at Adam's Auctioneers in Dublin on Wednesday 13 October.
"This picture had been bought directly from the artist in 1938 by Wilfred Toone who was the grandfather of the owner," said David Britton, the diirector of Adam's.
"Toone and his wife were the founders of the well-known Dublin school, Castle Park in Dalkey in 1904 and we understand the picture has never been seen in public for over 80 years having remained undiscovered in the family collection all this time.
"It has come to Adam's from the estate of his grandson, David, who unfortunately passed away after a long illness before the roadshow programme was aired on TV, and who had no idea of the immense value of the painting."
This is the second Paul Henry painting to be discovered on the Antiques Roadshow.
In 2006, Dooega, Achill Island, County Mayo went under the hammer for almost £150,000 at Adam's - about four times the estimate put on it.
The Bog Road has a pre-sale estimate of 40,000-60,000 euros.
"Our expectations for The Bog Road are high as the work is in untouched, excellent condition and is a superb example of the leading Ulster artist's abilities as a landscape painter," Mr Britton said.
Paul Henry was born in 1876 and moved to Paris when he was 22. He later moved to Achill Island and then Dublin. He died in 1958.
Related Internet Links
The BBC is not responsible for the content of external sites.