Czech abstract artist sees Belfast dream come true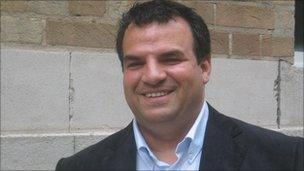 A chance glance at an advertisement in a job centre in the Czech Republic sent artist Tibor Cervenak on a journey that would change his life.
He answered the call for cleaners in October 2004 when his country joined the European Union and he could work abroad.
He ended up in Belfast on 12-hour shifts with a cleaning company. From there, he drove taxis, doing "crazy hours" across the city.
He was always painting pictures in his head.
And when this abstract artist got a chance to exhibit his work, he sold the lot - all 25 paintings - in 10 days and forged a name for himself that helped put the taxi keys at the back of the shelf.
Now, Tibor Cervenak is about to open a studio on Belfast's Lisburn Road and next year, he will be travelling to New York to fulfil a lifelong ambition to exhibit there.
"I was among the first group to come to Belfast after my country joined the EU," said Tibor.
"I found an ad from a cleaning company and I saw the opportunity."
"When I first arrived, it was very difficult. This was a different world. I saw that it could be very aggressive and yet the people were so friendly. I was very confused. I was shocked at the stories on the news. So I just stopped watching it."
The early days were spent working 12-hours shifts, night and day, and living in one room in a house shared with other immigrants in the university area.
But he had his painting. From the age of nine, he had developed a passion for painting and by his early 20s, he had exhibited in Europe and appeared in a documentary on Czech television.
"I don't paint the subject. I work with the canvas as a composer," he explained.
His dream was to open his own gallery and he worked as a taxi driver to fund that dream.
A visit to Amsterdam where he saw the open artist studios, convinced him that this was his ideal. The Tibor Studio was to follow.
Exhibitions at the Emer Gallery and the Safehouse in Belfast helped make his name.
Ten months after he arrived, his wife and two children joined him in the city they now call home.
"When I came to Belfast, the city seemed to be changed... growing something new. I really felt that and saw that. That's why I'm staying here," he said.
Tibor believes people in Belfast underestimate themselves. Some said there wouldn't be an interest in abstract art, but he has found that people like his work.
His visit to New York is at the invitation of the Flushing Council on Culture and the Arts (FCCA).
The NI Arts Council is supporting him and he will spend three months in the city next spring.
"It's an opportunity I am grabbing with both hands," he said.
"When I was driving people around in my car, I understood they were hungry for what is new."
Timor Cervenak is keen to feed that hunger.
Related Internet Links
The BBC is not responsible for the content of external sites.