Irish foreign minister Micheal Martin visits NI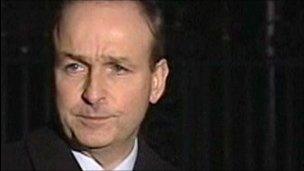 The Irish foreign minister is in Northern Ireland for a series of engagements.
Micheal Martin will be in Belfast and Lurgan, where he is expected to meet young people and activists involved in community relations.
Mr Martin said: "I am delighted to have the opportunity to see at first hand some of the excellent work taking place to promote reconciliation."
He is also expected to meet new Ulster Unionist Party leader, Tom Elliott.
While in Belfast, Mr Martin and the secretary of state Owen Paterson will launch a new book 'Policing the Narrow Ground'.
It has been commissioned from the Royal Irish Academy by the Department of Foreign Affairs in Dublin and the Northern Ireland Office to mark last year's tenth anniversary of the Patten report on policing.