Skimming device found on Banbridge ATM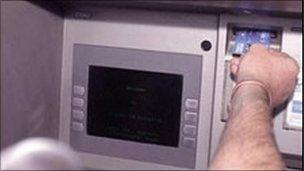 Police have issued a warning to anybody who used a cash machine in Banbridge on Saturday that their details may have been compromised.
A sophisticated skimming device was found attached to the ATM outside the Alliance & Leicester in Newry Street.
The machine had been checked at 0900 BST on Saturday and the device was found shortly before 1700 BST.
Anyone concerned should contact their bank and if their details have been stolen talk to police.