Resources needed for 'underachieving children'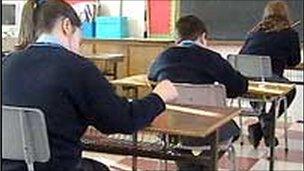 Stormont ministers are being urged to commit extra resources for school children living in poverty and break the cycle of academic underachievement.
Last year's GCSE results showed that only a third of Northern Ireland's poorest children managed five "good passes".
That compared to nearly two thirds of their better off classmates.
Save The Children has said the gap between rich and poor pupils remains unacceptably wide.
The charity's Fergus Cooper said the government needs to do more.
"Having such an attainment gap is totally unacceptable in 2010.
"To break this cycle of underachievement, children from the poorest homes must be given high quality additional support to ensure they can achieve their potential. To provide this, school principals need substantially more money.
"By doing this, we'll benefit all children in the long run - helping raise standards, improving results and bringing more money into schools."