Fire at home is treated as arson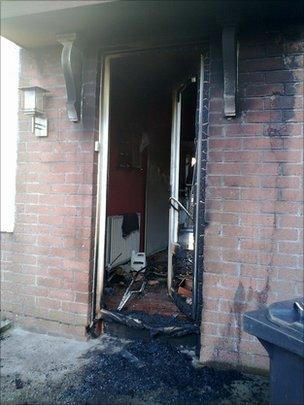 There has been an arson attack on a house in Newtownabbey, County Antrim.
Police said the front door of the property at Kings Avenue was set alight at about 0130 BST on Monday.
Two men in their 20s who were inside the house at the time managed to escape without injury.
Fire officer Keith Black said one of the calls raising the alarm came from the man trapped inside the building.
"We got a number of calls this morning, one was from a male gentleman who had escaped from the property and another was from a gentleman who was still inside," he said.
"Our control room staff reassured that person who was stuck in an upstairs bedroom due to a fire.
"We then turned out fire engines from Glengormley stations and they were backed up from Belfast.
"When the crews arrived they acted very quickly to extinguish a fire that was burning at the front of the door.
"After they extinguished the fire, they went upstairs where they knew the gentleman to be and escorted him out of the property.
"It was only due to the fact that there was a person awake in the property at the time that tragedy was averted in this particular case."
Police have appealed for information in relation to the incident.