Murder accused blamed 'Swedish girl'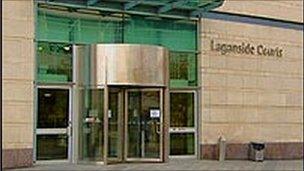 A woman who stabbed her partner claiming she was defending herself, after initially blaming "some Swedish girl," has gone on trial for murder.
Belfast Crown Court heard the victim's son saw Angeline Sara Jane Mitchel, stab Anthony Robin, 44, in his Fitzroy Avenue home in Belfast on 11 May 2009.
Mitchell, 39, from Lindsay Court, Belfast, denies stabbing Mr Robin.
A Crown lawyer said she told police that Mr Robin "had been fighting with some Swedish girl who had just left".
The lawyer said that when Mr Robin stopped breathing as he was being transfered to a waiting ambulance, Mitchell allegedly commented: "He's putting that on".
During interview, Mitchell said she and Mr Robin had a troubled past and that night they had argued.
She claimed Mr Robin became angry with her, initially verbally abusing her before knocking her down and squeezing her throat.
At another stage, she claimed he attacked her with a canoe paddle while she grabbed a kitchen knife because she was "scared" and "lashed out" in a effort to defend herself and to escape.
However, Mr Kerr told the jury of seven men and five women that given the shape of the flat it would have been difficult to use the paddle as a weapon and there was also a lack of disturbance in the kitchen itself.
"Knives are lethal weapons and everybody knows that, and anybody who uses a knife indicates that they intend to inflict serious harm," the Crown lawyer said.