Majority unwilling to pay water charges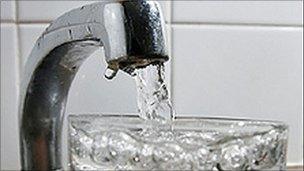 A majority of people in Northern Ireland are unwilling to pay water charges even to help protect front-line services, an opinion poll has claimed.
The survey, conducted for BBC NI's Spotlight, highlights people's fears that public spending cuts could lead to job losses within their households.
The poll was carried out among a sample of just over 1,000 people across NI within the past three weeks.
64% said they would not be prepared to pay charges from next year.
Another 24% said they would and 12% said they did not know.
However, 55% agreed that public spending cuts were necessary to deal with the current economic situation while 28% disagreed and a further 15% strongly disagreed.
A large majority - 65% - said they were concerned that they or someone else in their household could lose their job as a result of the proposed cuts.
That includes 35% who said they were very concerned.
The findings, and other results from the opinion poll, will be explored during an hour-long Spotlight programme on BBC Northern Ireland on Tuesday at 2232 BST ahead of the Public Spending Review on 20 October.