Republic's police chief says arms find is 'significant'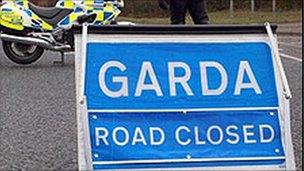 Irish police investigating the activities of dissident republicans have discovered a Real IRA arms and ammunition dump in County Louth.
A general purpose machine gun, shotgun, an improvised mortar, ammunition and bomb-making equipment were found.
The wooded area at Togher, Dunleer, remains sealed off on Tuesday morning.
The explosives and firearms were wrapped and sealed in a barrel to protect them from the elements before being buried in the ground.
This is the second seizure of firearms and explosive material over a four-day period.
Two people have already appeared before the courts in connection with an earlier operation.
Another eight people who were arrested have all been released and files are being prepared for the Director of Public Prosecutions.
Garda commissioner Fachtna Murphy described the find in Dunleer as "significant".
"This find represents a further step in our determined strategy to target, disrupt and detect the activities of dissident republicans," he said.
Mr Murphy said they were dealing with a small core group of focused people of varying ages.
"Some of them are a throw back from a time when other views prevailed. Those views cannot prevail now," he warned.
"We continue to work closely with our colleagues in the Police Service of Northern Ireland and in the security service to thwart the intent of a small group of people who want to inflict violence and pain on communities.
"Our objective is to stop them in their tracks and secure evidence to put them before the court."
Mr Murphy said Irish police would continue to monitor "these people closely" and arrest them where appropriate.
"It's a clear indication of our commitment, the fact that in the last few days we arrested nine people and as I speak, we're out there working to ensure that any follow up inquiries are done and that nobody escapes from the rule of law."