Man loses arm in cement mixer accident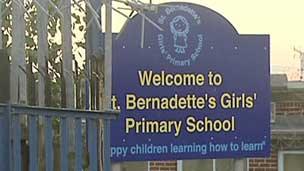 A man has lost an arm in an accident in west Belfast's Ballymurphy area on Monday.
The man's limb was severed after it became trapped in a cement mixer at St Bernadette's Primary School on the Glenalina Road.
He has undergone surgery in the Ulster Hospital in Dundondald where he is described as being in a comfortable condition.
The Health and Safety Executive is to investigate the incident.