Bogside tourism project fails to win £1m EU windfall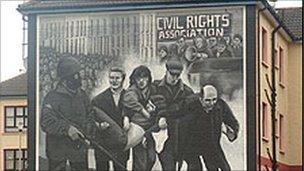 Derry City Council has been turned down for almost one million pounds of European peace money to fund a new tourism project.
The money would have been used to landscape a grass area between the city walls and the Bogside.
However, the plan fell just short in a funding appraisal process carried out by officials from the European Union.
The city council is now examining whether it has grounds for an appeal.
The failed funding bid affects a plan to landscape the grass area of the Bogside beneath the city walls, however, it was only part of a larger, three-part project.
Council officials hope the other parts of the project will remain unaffected.
The Apprentice Boys plan to establish a museum and the Museum of Free Derry is set to be expanded, under the other aspects of the plan.
Sinn Fein councillor Maeve McLaughlin said the city council needed to examine how it went about securing European money.
"It follows a particular pattern in this city about how we access European funding generally and I think we really have to up our game in relation to this.
"There's been £12m secured in Belfast since 2004, and in my view it's been secured because they have a dedicated focus on that.
"They have a very clear strategy and a very aggressive strategy," she said.
Related Internet Links
The BBC is not responsible for the content of external sites.