Colin Duffy claims strip-search 'abuse'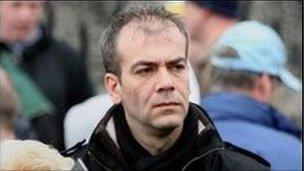 A Lurgan republican accused of the Real IRA murder of two soldiers is claiming he was subjected to sexual and physical abuse during a prison strip-search.
Colin Duffy, 42, has been in custody since March of last year when Sappers Patrick Azimkar and Mark Quinsey were shot dead outside Massereene barracks.
His claims have meant the preliminary investigation into the murders - due to restart has been delayed again.
The abuse is alleged to have happened in prison on Tuesday morning.
Defence lawyer Mark Mulholland told Coleraine Magistrates Court that Duffy, from Forest Glebe in Lurgan, had been left in "significant pain" as a result.
Duffy, along with 45-year-old Brian Patrick Shivers, from Sperrin Mews, Magherafelt, is accused of the murders of the two soldiers on 7 March last year.
Prosecuting QC Terrence Mooney claimed that DNA evidence linked both men to the gunmen's Vauxhall Cavalier car, from which police later recovered a "terrorist kit" of camouflage gear.
Mr Mooney further claimed that the evidence provided a significant and strong inference which would allow the court to find that there was a prima facie case against both men.
They are also accused of the attempted murder of five others injured in the attack and possession of the two AKM rifles used by the gunmen.