QUB student contracts meningitis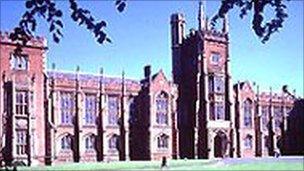 At least one student studying at Queen's University Belfast is being treated for suspected meningitis.
The Public Health Agency (PHA) has confirmed the case emerged at the weekend.
The student is Michele McAuley, who is in the first year of a course in dentistry.
Since then a second case has been reported, but not confirmed, also involving a first year dentistry student.
The PHA confirmed that antibiotics will be offered to all first year dentistry and medical students who share lectures as a precautionary measure.
The agency said it was working closely with the university's senior medical officer to ensure all necessary measures were taken.
In a statement the PHA said that although meningitis was not common in the 16-24 age group, young people should be aware of the signs and symptoms.
These may include severe headache, dislike of bright lights, vomiting, neck stiffness, a non-blanching rash and drowsiness.
Should people develop any of these symptoms they should contact their GP or local A&E department immediately.
Students and young people should also watch out for these signs and symptoms in their friends.
Dr Dennis Todd from Queen's University said: "We continue to work with the Public Health Agency and we will certainly be monitoring the circumstances of all of these students, not only the ones who have got the antibiotics, but the entire student body and there has been an alert given to all students."
A first-year student at the University of Ulster, Jordanstown, died from meningitis in September.
County Antrim teenager Fergal McCaughan from Ballycastle had just started a business studies degree at the University of Ulster in Jordanstown.