Public speak of their fears ahead of forthcoming cuts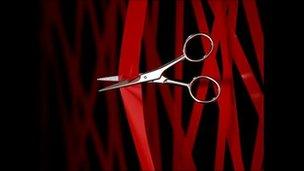 People from different walks of life across Northern Ireland have been telling their stories about how the forthcoming cuts will affect them.
Gareth Larkin sets his digital camera down on a stool beside a profusion of lights and backdrops in his simple photography studio in Dundonald.
Gareth never dreamed he would be taking pictures for a living.
He spent years training to be an architect and landed a job with a big firm in Belfast.
Suddenly, back in 2008, he was let go.
"Within about six to eight months the work had almost dried up," he said.
"After maybe about a month I turned to one of my hobbies, photography."
'A lot worse before it gets better'
Gareth is learning a lot about running his own business, but he is worried how it will survive even harder times after the cuts.
"It seems like it's going to get a lot worse, before it gets any better."
In Antrim, Terry Madill's study is littered with memorabilia of his hobby, the Titanic.
He is an experienced chartered civil engineer, used to running projects worth millions of pounds.
Now there is very little work for him, even as a freelance consultant.
He spends much of his energy on the Titanic Schools Project, but that has never made him any money.
And the prospect of spending cuts is a worrying one for his family.
"We had to cut our coat according to our cloth, the problem is we're having to cut it again," he said.
"I have to think now, about where I'm going to go and look for work."
Meanwhile in Kilrea, a family firm has been looking for new ways to make the business recession-proof.
Mullins have been making and selling ice cream in the small County Londonderry town since 1954.
Peter Lynn, their key account manager explains: "We have tried to prepare ourselves for hard times, even before we really knew hard times were coming."
The company has diversified, making new products, and winning a three year contract to supply ice cream to all the hospitals and nursing homes in Northern Ireland.
"We're ready to adapt, and our staff are ready, to make changes if necessary. Hopefully it won't be," he said.
You can hear the hope and fears of ordinary people thinking about the Comprehensive Spending Review every evening this week on Evening Extra, on BBC Radio Ulster.