QUB to review grade for student who challenged his 2:2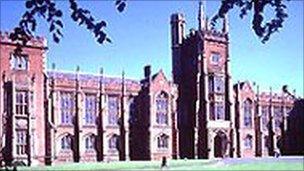 A Belfast graduate who took his university to court after they awarded him a 2:2 degree is to have his degree classification reviewed.
Andrew Croskery, from County Down, had applied for a judicial review of the grade he received from Queen's University in Belfast.
Mr Croskery was only 0.5% off obtaining a 2:1 in his degree.
Judicial review proceedings have been adjourned to see if the review can bring a resolution.
Mr Croskery graduated in June with a degree in electrical engineering. He applied for the judicial review in September.
The High Court heard the proposal was being made without prejudice in a bid to ease any concerns by Mr Croskey.
Mr Croskery claimed if he had received better supervision he would have achieved a higher degree.
It had been argued that he was denied a right to appeal against his classification because he graduated from Queen's this summer.
'Job prospects jeopardised'
The University's stance was not compliant with his client's human rights, according to his lawyer.
At an earlier hearing it was claimed Mr Croskery's job prospects had been jeopardised because of the degree awarded.
Lawyers for Queen's had argued a judicial review application was not the proper forum for the challenge because it had a board of visitors which considered student appeals and complaints.
But on Tuesday, a judge granted a three-week adjournment for the review process to take place.
This is expected to examine his degree classification on the alleged grounds of inadequate supervision and procedural irregularities.
A further challenge may also be brought to a Central Students Appeal Committee.
Mr Croskery, who was in court for the short hearing, left without making any comment.