Fermanagh hotel secures £1m deal for more US visitors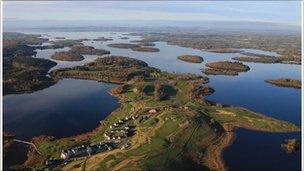 The Lough Erne Resort in County Fermanagh has signed a deal with an American travel operator worth £1m over the next two years.
The American company is called Tauck Tours, and it brought around 400 visitors to the resort between May and September this year.
They have now signed up for 39 tours next year, and a similar number in 2012.
The resort's general manager Jonathan Stapleton said they had invested "significant resources" into attracting international visitors since opening in October 2007.
"We are very pleased that more Tauck clients will be coming to the Fermanagh Lakelands next year," he said.
"The company brought ten tours here between May and September, which provided us with an opportunity to show what Lough Erne Resort and the Fermanagh Lakelands has to offer.
"The feedback was very positive and as a result, the company will be increasing the number of tours from 10 to 39 for 2011, with a similar number envisaged for 2012."
The resort also plans to increase the number of international guests through a six-night incentive tour group partnership with the Westbury Hotel in Dublin, the Gleneagles Hotel in Scotland, and the Merchant Hotel in Belfast.